Home
Welcome to GetCharting.com
Download Free World wide stock charting software
Start making more out of free data available online. Getcharting Mi conveniently collects Free historical stock quotes from Yahoo! Finance for you to stock chart, screen and more.


With this software...
Conveniently your tailored requests will be sent to "Download to spread sheet" link on Yahoo! Finance to have the Free historical stock quotes retreived in bulk which you can draw your stock chart with, using this sofware.
You can easily set up your preferences to collect data and instantly create intuitive stock charts, quickly go to the related financial information and the news on Yahoo! finance. With the help of its friendly interface, change the presentation of your charts, customize the graphs, save them on your PC and edit them whenever you wish.
The screening / filtering facility "Find Favorites" will extract the stocks, indices, mutual funds and ETFs world wide before you view the each chart. However, screening / filtering is not a necessary process to view the graphics.
You can make neat notes or journals of your own with the graphics you created.
What you created with the software can be saved into your computer through the unique filing system which supports the flexible viewing experience of your charts.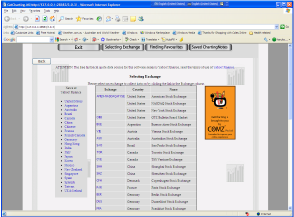 Start with clicking on the exchange code corresponding to the one which has the data you would like to download and draw your stock chart with.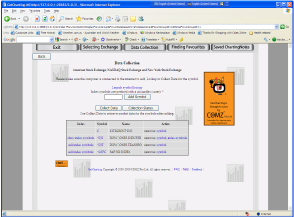 Start downloading data by clicking on the "Collect Data" button or if you wish, add symbols or components of indices to the default list to tailor it before you download data.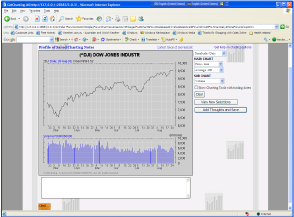 Click on the symbol in any list you would like to see its chart. Try out different types of graphs and indicators to find your favorite combinations.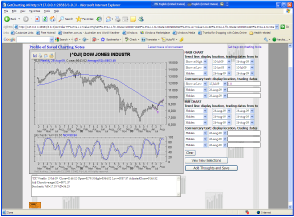 First, tick the selection box of "Show charting tools" and click "view selection" button to let the charting tools to appear. You can use the tools to add text and trend lines to your main stock chart and sub chart shown on the screen. The charting tools are ideal for enhancing the graphs to refine your notes or journals.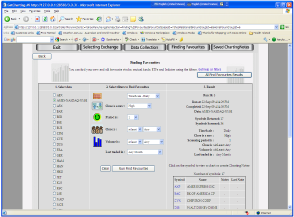 To tune your interest into the ones matching with the criteria you set up, run "Finding favorites" before you see the charts and enhance those to suit your needs. The program keeps all the results of Finding Favorites as uniformed records automatically.
So you can go back to any result you would like to see anytime you want.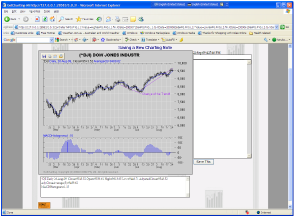 Save your stock charts in your PC with your thoughts you added for your reference and get the best out of the software's unique filing system. Enjoy easy systematic viewing of saved records.
Have fun making and viewing your private journal in a cool way!


United States: American, NASDAQ, New York Stock Exchange NYSE, OTC Bulletin Board Market
Argentina: Buenos Aires Stock Exchange
Austria: Vienna Stock Exchange
Australia: Australian Stock Exchange
Brazil: Sao Paolo Stock Exchange
Canada: Toronto Stock, TSX Venture Exchange
China: Shanghai,Shenzhen Stock Exchange
Denmark: Copenhagen Stock Exchange
France: Paris Stock Exchange
Germany: Berlin, Dusseldorf, Frankfurt, Hamburg, Hanover ,Munich, Stuttgart, XETRA Stock Exchange
Hong Kong: Hong Kong Stock Exchange
India: Bombay, National Stock Exchange of India
Indonesia: Jakarta Stock Exchange
Israel: Tel Aviv Stock Exchange
Italy: Milan Stock Exchange
Korea: Korea Stock Exchange
Malaysia: Kuala Lumpur Stock Exchange
Mexico: Mexico Stock Exchange
Netherlands: Amsterdam Stock Exchange
New Zealand: New Zealand Stock Exchange
Norway: Oslo Stock Exchange
Singapore: Singapore Stock Exchange
Spain: Barcelona, Madrid SE C.A.T.S. Madrid Stock Exchange
Sweden: Stockholm Stock Exchange
Switzerland Swiss Exchange
Taiwan: Taiwan OTC, Taiwan Stock Exchange
United Kingdom London Stock Exchange
*For the terms and conditions of the use of data and information from Yahoo! Finance, please read Yahoo! Finance Web Services Terms of Use.